Sunday, December 6, 2020 at 11 am
All are welcome but everyone must wear a mask and appropriately distance. 
Please click HERE for the service bulletin.  (Bulletin will not be distributed. Please print prior to the service or follow along on your cell phone. )
Please click HERE to access a previously recorded podcast of the readings and the sermon. 
NEW! We will post a video of the outdoor service on You Tube each Sunday afternoon.
***********************************************************************************************************
Gifts Needed for Friendship Place's Annual Holiday Wish List!
Once again, Friendship Place is having their annual gift drive for participant families in their programs. And once again St. Paul's is offering to help!  
Please read the following carefully:
Deadline for gifts to be received at St. Paul's is Sunday, December 13th.  St. Paul's will deliver the items all at one time to Friendship Place's programming offices. (Most of the requested items are gift cards and should be easy to procure!)
Please include the Family # and ID # on all gifts.  This is the only way we will have to identify which gift goes to which family member. For protection and privacy reasons Friendship Place cannot provide names.  Only initials can be provided.
Please do not wrap gifts in wrapping paper!
We recommend gift card values be less than $50.  $20 - $30 is ideal
If you have any questions about the program, please contact Lisa Wackler 
To sign up for gifts, please click HERE
*****************************************************************************************************************
FOOD PANTRY UPDATE
 Food Pantry -
Our Food Pantry continues to provide for many in our community, and with the arrival of cold weather we expect to see even higher demand.
 The things that will help us the most at this time are:
Hearty soups
canned protein (meat, fish, beans)
pasta
pasta sauce
peanut butter
healthy cereal
full size toiletries:  shampoo, conditioner, soap, body wash, deodorant, toothpaste, toothbrushes, toilet paper
  Starting this month, the St. Paul's Food Pantry, with the help of the Capital Area Food Bank and Ward 3 Mutual Aid, will increase our Food Pantry days to include the 2nd Saturday of the month (and the 2nd and 4th Saturdays starting in January).  Stay tuned to find out how you can help us with this endeavor!  
 And finally, the Washington Humane Alliance will be at the Food Pantry the first Saturday of every month starting THIS SATURDAY, December 5th, distributing pet food for DC residents in need.
 If you have any questions, about the St. Paul's Food Pantry, please contact Lisa Wackler .
________________________________________________________________
Advent-to-Go
Advent has begun, and there's still time to prepare for our Savior's birth with an "Advent to Go" bag! The bags contain materials and instructions on how to make your own Advent wreath for home use, along with a book of Advent devotions. (We also offer Advent Candles and devotion books separately, if you already have an Advent wreath at home.) These items are at no cost, but a free will offering is appreciated.
 The church has a limited supply of these bags, so please let Lisa Wackler know if you would like to make arrangements to pick one up.
_________________________________________________________________
St. Paul's Virtual Christmas Pageant!
Sunday, December 20th at 7 pm via Zoom
We are not able to have our usual pageant in person at church this year, so we're taking our "show" on the road...or at least virtual... And everyone is invited!  
 Here's how it will work:
Sign up on the link below by Sunday, December 13th at 8 pm to let us know that you're interested in participating.  By signing up you're telling us that you want a speaking part, although EVERYONE in the congregation is invited to join in on Zoom that evening to be a part of the "audience." Anyone can sign up from youngsters to seniors, and everyone in-between.
Parts will be assigned on Monday, December 14th.  The script will be sent to you if you have a speaking part, and available for download for everyone who tunes in.
There will be no practice, which will be part of the fun!
Extra Bonus Points if you show up on the Zoom in costume!  Even if you don't have a speaking part, you can still show up on Zoom dressed as an angel, shepherd, sheep, or one of the animals at the manger!
We may even explore putting some carols in there for you to sing at home...stay tuned for more info on this.
  If you have any questions, please reach out to Lisa Wackler.
https://us02web.zoom.us/j/83778526994?pwd=enh1K0toZU9OOVIzSU1Hb3JTRmFTQT09
Meeting ID: 837 7852 6994
Passcode: 201596
One tap mobile
+13126266799,,83778526994#,,,,,,0#,,201596# US (Chicago)
+16468769923,,83778526994#,,,,,,0#,,201596# US (New York)
Dial by your location
        +1 312 626 6799 US (Chicago)
        +1 646 876 9923 US (New York)
        +1 301 715 8592 US (Washington D.C)
        +1 408 638 0968 US (San Jose)
        +1 669 900 6833 US (San Jose)
        +1 253 215 8782 US (Tacoma)
        +1 346 248 7799 US (Houston)
Meeting ID: 837 7852 6994
Passcode: 201596
Find your local number: https://us02web.zoom.us/u/kyUlmtQyD
_________________________________________________________________
2nd Sunday in Advent: Love
"My command is this: Love each other as I have loved you." --John 15:12
Participating in the Gifts of Hope program translates into loving our neighbors. When our congregation gives Gifts of Hope, we support children, the homeless, those seeking work or education, people who need medical or dental care, and those seeking to improve their lives. This Advent season, love to a stranger who is in need? Visit www.giftsofhopedc.org for more information.
Catalog: Click here for PDF of Catalog
URGENTLY NEEDED: help with recording Sunday services
We are urgently seeking volunteers to help record Sunday services. Since the end of the summer, the staff has handled all aspects of recording the Sunday services by ourselves. There's a fair amount of work required: we need to set up and run an iPhone to capture the video and adjust the audio levels of the sound system during the service to ensure good-quality sound. After the service we edit the video and upload it to YouTube. It has been very challenging to lead the worship service while simultaneously handling all the audio/video logistics.
It will soon be too cold to worship outdoors on Sunday mornings. Before the summer weather enabled us to gather outside (as we have done since July), we recorded services in advance (first audio only, then video, too) to be available on Sunday morning. But going forward, when outside worship is no longer feasible, the staff wants to lead the worship service at 11:00 on Sunday mornings and simultaneously livestream to YouTube. This change will allow all of St. Paul's members plus the many additional virtual visitors who have discovered our church during the pandemic to all worship together at the same time. We cannot do this without additional help, however.
It is clear that we need some helpers to manage the audio and video during the livestreaming. We are looking for multiple people to volunteer to be trained and be available to help on a rotating basis. Just as there are many people who volunteer to be lectors, ushers, acolytes, and Communion assistants, there is now an immediate need for audio/video helpers to join that list. The responsibilities aren't difficult, but they are critical, especially now. All ages are welcome, particularly high school or college students.
Please let us know you're interested by emailing Sonja and Matt. Or email us if you just have questions or want more information.
We cannot extend our ministry at St. Paul's to include livestreaming without your help.
Thank you, and we look forward to hearing from you!
Sonja and Matt
_________________________________________________________________
Congratulations to the 2020 Confirmation Class!
On Saturday, October 24th, nine young people will affirm their baptism at St. Paul's. Originally, their Confirmation Day was to be at Pentecost last May, but the pandemic postponed those plans. Now on the eve of Reformation Sunday, we are waiting no longer!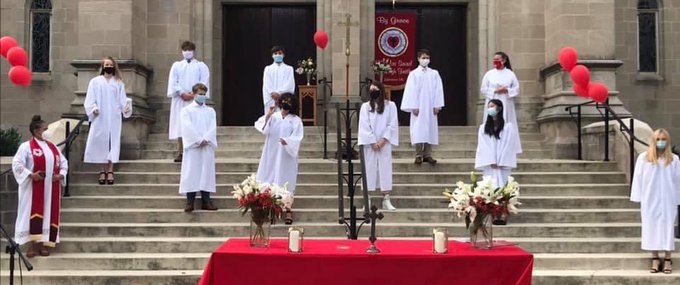 We ask that you lift up these Confirmands in your prayers:
Sarah Jane Beebe
Jacob Cantwell Dueholm
Kieran Thorle Gjersvold
Grace Lillian Heffley
Thomas Merrill Kolasky
Carol Li
Britt Marie Nordquist
Alia Jane Rihani
Colin David Shantz
Almighty God, thank you for this special time. We ask that the Holy Spirit come and dwell among us. Amen.
________________________________________________________________
Wednesday Night Bible Study will resume on October 21st.
 We will discuss the Ten Commandments and move in the Spring, onto the Creed and the Sacraments. These studies will be a good refresher as we examine what the Bible says and what Luther said.
 We will also examine what these ancient text mean for how we live today. So, join me Wednesdays Sept. 23, 30, Oct.* 21, 28, Nov. 4, 11, 18. 
Be well, be safe, be blessed 
Pastor Andrea 
*There is a space in our weeks of study because I will be taking a vacation Oct. 6-16 
Zoom Link  
Topic: The Ten Commandments 
Time: 
                 Nov 18, 2020 06:30 PM 
https://us02web.zoom.us/j/88394472706?pwd=THpaNDdvby82dDRLR2FIVy8rWWZRZz09
Meeting ID: 883 9447 2706    
Passcode: 558364 
One tap mobile 
+16468769923,,88394472706#,,,,,,0#,,558364# US (New York) 
+13017158592,,88394472706#,,,,,,0#,,558364# US (Germantown) 
***********************************************************************************************************
Racial Equity
Movement 2  
Members of the St. Paul's congregation gathered in person (10/18) and on zoom (10/19) to discuss racial equity using the prayer, scripture and activities of movement 1.
Each movement can stand on its own and you are invited to experience this on your own or in one of our group settings.
We are in this process of listening, learning and leading and all are welcome.
Information on the second movement is below and the discussions will be Sunday 11/8 after worship (weather permitting) and Sunday 11/8 at 4pm on zoom (and please remember you can dial into a zoom call from a regular phone - smartphones/video are not required).  Zoom details below.

Opening prayer: 
Merciful God, you, who created ALL people in your likeness, give me a sense of your compassion as I hear the stories of the past. I bring before you the suffering and pain of those who are oppressed. I live in hope that all will be lifted from despair. I confess my complicity in systems that hurt and harm and ask your forgiveness. In your love walk with me as I journey toward a just future.
 Scripture: Isaiah 1:17 
". . . Learn to do good; seek justice, rescue the oppressed, defend the orphan, plead for the widow."
Activity Options: (Please choose one or all of these options) 
Listen: The 1619 Project Podcast Episode 2 - The Economy That Slavery Built
Watch: TEDTalk - Color Blind or Color Brave with Mellody Hobson (14:50)   
Read: White Privilege: Unpacking the Invisible Knapsack by Peggy McIntosh
 Or/and: So You Want to Talk About Race Chapters 3,4,5
Reflection Questions: 
How did the activity make you feel?
What was new to you?
What surprised you?
What made you feel uncomfortable? Why do you think that is?
What does any of this have to do with your faith?
Write a brief synopsis of your chosen activity.
What do you want to do after hearing/reading/watching this?   
Closing Prayer: Compassionate God teach me to love like you. 
Stay tuned for discussion of Movement 2.
________________________________________________________________
Cultivating Evangelism - Starting with some questions:
St. Paul's is Welcoming to All . . . 
We have said we are welcoming; we have said we want to be more welcoming.  Where do we go from here?
Please consider joining a discussion of evangelism - how we reach out as church.  Come and share your thoughts on our evangelism in our immediate neighborhood and to guests to worship and our church.  There will be a call this coming Sunday October 23 at 3pm; or reach out individually (amy.mbaumgardner@yahoo.com).
 Did you know you don't need anything other than a phone to join a zoom call?  The video is optional! 
For this discussion you can dial 301-715-8592.  When asked for the meeting code it is 851 9185 5653, and the passcode is 723 060.
 Zoom information:
Topic: Cultivating Evangelism - A St Paul's Lutheran Discussion
Time: Oct 25, 2020 03:00 PM US/Eastern
 Join Zoom Meeting
 Meeting ID: 851 9185 5653
Passcode: 723060
One tap mobile
+13017158592,,85191855653#,,,,,,0#,,723060# US (Germantown)
+16465588656,,85191855653#,,,,,,0#,,723060# US (New York)
 Dial by your location
        +1 301 715 8592 US (Germantown)
        +1 646 558 8656 US (New York)
        +1 312 626 6799 US (Chicago)
        +1 346 248 7799 US (Houston)
        +1 669 900 9128 US (San Jose)
        +1 253 215 8782 US (Tacoma)
Meeting ID: 851 9185 5653
Passcode: 723060
__________________________________________________________________
Church is open for Prayer and Meditation.
As the pandemic continues we are holding worship services outside as the weather permits.
If you miss being in the church, please contact Joy Belew to set up a time to come inside for quiet meditation and prayer.
Please don't forget to wear your mask, and wipe down any surfaces in which you make contact (wipes will be provided)!

If you have any questions about using the space, please contact Joy in the church office at 202.966.5489.
_________________________________________________________________
Blessing of the Animals
 Thank you to everyone who attended either our virtual or in-person Blessing of the Animals on October 4th.  Our virtual blessing included our first fish, who just might be swimming in holy water now!
________________________________________________________________
Introducing GivePlus Text!    You can now make a contribution with text!
Simply send a text message to St. Paul's GivePlus Text number, 844-262-6943, with the amount you would like to contribute. Within a few minutes, you'll be sent a text with a link to register. Click on the link and enter your cardholder name and debit or card information. Once your registration is complete, you will receive a text verification and a receipt of your donation via email.
For future giving, send a text with the amount you wish to give, and it will process automatically! You can even text "repeat" to make it a recurring donation. Text giving is one of the fastest and easiest ways to give. 
To learn more watch this video or click here  to view a pdf "Quick Guide to GivePlus Text". 
_________________________________________________________________
******************************************************************************************************************
***********************************************************************************************************