Advent and Christmas at St. Paul's
Sunday, Dec. 16: Third Sunday of Advent
Come and worship as we light the third candle on our advent wreath at the 8:30 am and 11 am worship services.
Sunday, Dec. 23rd: Fourth Sunday  of Advent
We will gather for worship at one service at 11 am for our traditional Service of Lessons and Carols.  This beautiful service is a wonderful way to prepare for the coming of Christ our Lord as we recount the foretelling of the prophets and the story of Christ's birth. 
The conclusion of the service will feature the Sunday School Christmas Pageant.
Monday, Dec. 24: Christmas Eve
Worship with a special focus on children and families at 4 pm.
Festival Candlelight Service at 8 pm.  Both services with Holy Communion.
Special Musical Prelude at 7:40 pm
No service on Christmas Day.
Sunday, Dec. 30: First Sunday of Christmas
We will gather for worship at one service at 11 am.
Sunday Jan. 6th: Celebration of the Epiphany of our Lord
We will gather for worship at one service at 11 am.
And don't forget!  The church nursery is available every Sunday 10:30 am--12:30 pm (or until the last child gets picked up).  Let us give you a break when you need it!
_______________________________________________________________
Poinsettia Orders Due 
Please help beautify St. Paul's Chancel and Altar for Christmas!
Haven't ordered your poinsettia plant yet?
No worries.... BUT, please email Joy Belew the number you are planning on ordering (plants are $14.50 each) and submit your order form and check
this Sunday, December 16th or drop it off at the office no later than Monday, December 17th!
Thank you!
_______________________________________________________________
Bethlehem Christmas Simulcast Service - December 15 9:30 am National Cathedral
On Dec. 15, 2018, share the heart of Christmas with the people of Bethlehem. Palestinian Christians, whose ancestors date back to the first followers of Christ, continue to bear witness to their faith in Bethlehem, Palestine, this Christmas. Join with congregations at Washington National Cathedral and Christmas Lutheran Church in Bethlehem for this 12th annual Simulcast Christmas Service celebrating the birth of the Prince of Peace. Join us onsite at the Washington National Cathedral, 3101 Wisconsin Ave, NW, Washington, DC 20016, watch live online, cathedral.org youtube.com/wncathedral.
* Readings, prayers and carols in both English and Arabic alternate between Washington, DC and Bethlehem via live simulcast
* Open to the public and to people of all faiths
* For additional information, please contact: jerusalem@edow.org 
_______________________________________________________________
Cantate Chamber Singers Concert at St. Paul's
Saturday, December 15th at 5 pm
The Cantate chamber singers will perform a concert at St. Paul's this Saturday afternoon,Dec. 15th at 5 pm, that includes J.S. Bach's Magnificat in D & movements of cantatas featured in the Mass in B-Minor. For more information, click HERE. 
_______________________________________________________________
Casting Call for Angels and Shepherds for 4 pm 
Christmas Eve Service
Please join us as a shepherd or an angel for the 4 pm Christmas Eve Service!  All generations are welcome and no experience is necessary.  Participating in this special service is great fun!  To sign up or if you have questions, please contact Lisa Wackler (lwackler@stpaulslutherandc.com). 
_______________________________________________________________
Join us for a celebration of Los Posadas
Wednesday, December 19th at 6:30 pm
Please join us for a cross-generational event as we celebrate Los Posadas ("the inns,") a celebration of Mary and Joseph's journey to Bethlehem, and their search for a place to stay. Las Posadas is traditionally celebrated in countries such as Mexico, Guatemala, and Cuba (just to name a few!) from December 16th-24th.
We will start with dinner at 6:30 in the church Dining Room and a brief discussion of the holiday and what it means. Then we will move upstairs to the nave where we can have our very own Las Posadas procession!
Take a break from your own hectic holiday planning and spend an evening at the church, and learn about how others wait for Jesus during this Advent season.
Please RSVP for this event by Sunday, December 16th by  clciking HERE:  This will allow us to plan for enough food (and other surprises!).
If you have any questions, please contact Lisa Wackler.
_______________________________________________________________

Help Us Make Christmas Merry for the Men of Our Shelter!
We are looking for gifts for the men of the St. Paul's shelter.  We are still looking for specific requests from the men about things that they need, but please consider donating gift cards that the guys can use to buy lunch or toiletries--(Panera, Starbucks, and CVS are a few suggestions).
And don't forget that our Shelter Meal Coordinator, Debra Fried Levin, is always looking for volunteers to bring in food for the men's dinner--including the Christmas Day potluck.
If you're interested in helping, please contact Lisa Wackler .
______________________________________________
A MONTH OF MAGNIFICAT    
To reiterate the piece in the November 28th e-news, we are celebrating the Magnificat during all of Advent at St. Paul's, as liturgical Year C, centered around the gospel of Luke, began on Sunday, December 2nd. The Magnificat, or Song of Mary, is unique to Luke's gospel. On the 2nd we heard an organ setting by J.S. Bach, one of hundreds of organ Magnificats written especially for Lutheran service use.
On Saturday, Dec. 15th at 5 pm, the Cantate chamber singers will perform a concert at St. Paul's that includes J.S. Bach's Magnificat in D.
Next morning, on Sunday the 16th at the 11am service, the choir will sing a Magnificat setting by American composer Gerald Near. And on Sunday the 23rd, the fourth Sunday of Advent, when the account of the Magnificat is specified in the readings, we will hear a version for soprano and organ by American composer Calvin Hampton. (Just one service that day, at 11am, with children's pageant following the traditional Lessons & Carols format.)
Luke's opening account is very dramatic, with so many miraculous events happening in just the first chapter: the angel Gabriel meeting Zechariah in the temple; Zechariah's muteness from disbelief; old Elizabeth's pregnancy with John the Baptist; Gabriel's conversation with Mary (the Annunciation); Mary's visit to Elizabeth and Elizabeth's prophetic greeting; Mary's lovely song in response; the birth of John the Baptist; and Zechariah's song of prophecy in gratitude for it, after months of enforced silence. All this between verses 5 and 80 in Luke, chapter 1.
The Magnificat:  Song of Mary
Luke 1: 46-55
And Mary said,
"My soul magnifies the Lord,
and my spirit rejoices in God my Savior,
for he has looked with favor on the lowliness of his servant.
Surely, from now on all generations will call me blessed;
for the Mighty One has done great things for me, and holy is his name.
His mercy is for those who fear him from generation to generation.
He has shown strength with his arm; he has scattered the proud in the thoughts of their hearts.
He has brought down the powerful from their thrones, and lifted up the lowly;
He has filled the hungry with good things, and sent the rich away empty.
He has helped his servant Israel, in remembrance of his mercy,
according to the promise he made to our ancestors, 
to Abraham and to his descendants forever."
-Sonja Kahler & Matt Larson, music directors
______________________________________________
The Great O Antiphon Countdown: the final week of the Church's Advent calendar
So what is this? This special countdown always starts on December 17, for the last seven days of Advent. This year, Dec. 17 is next Monday, the day after the third Sunday of Advent. The O Antiphons are one of the Western Christian Church's oldest traditions, dating from the time of Charlemagne (eighth century) or even earlier. They have been called "the great Os" for hundreds of years; the word "antiphon" comes via ecclesiastical Latin from Greek antiphōna 'harmonies,' neuter plural of antiphōnos 'responsive,' from anti 'in return' + phōnē 'sound.'  The Great O Antiphons are a set of refrains originally used before and after the singing of the Magnificat (Mary's Song) in the Vespers (evening) service. Catholics, Lutherans and Episcopalians sing them the most, although nonliturgical churches now use them too, often in spoken form.
Each refrain or petition begins with "O" and one of the special titles given to the Messiah by the prophet Isaiah. And then each petition asks Jesus to come and save us in a particular way, also as described in Isaiah's prophecy. Using these Old Testament titles reflects Israel's yearning for the Messiah, and they help us express our own hopes and expectations as we wait for Christ's return.
During the twelfth century, these antiphons were loosely transcribed into a Latin hymn. In the mid 1800s English linguistics scholar John Mason Neale translated that into English; a later descendant of his version is now sung as the lyrical paraphrase "O come, O come, Emmanuel" (ELW #257). The fifteenth-century French processional chant that fits this text so well is traceable to a copy written out for a Franciscan convent.
This quintessential Advent hymn (a verse at a time) has served as our Advent wreath-lighting hymn this December.
The beautiful language of the individual O Antiphons works well as part of daily devotions in the final week of Advent, as meditations taped to a mirror or door, et cetera.
-Sonja Kahler & Matt Larson, music directors
The O Antiphons:
December 17  (O Sapienta) 
O Wisdom, 
coming forth from from the mouth of the Most High, reaching from one end to the other, mightily and sweetly ordering all things: 
Come and teach us the way of prudence.
December 18   (O Adonai)
O Adonai, 
and leader of the House of Israel, who appeared to Moses in the fire of the burning bush and gave him the law on Sinai: 
Come and redeem us with an outstretched arm.
December 19   (O Radix Jesse)
O root of Jesse,
standing as a sign among the peoples; before you kings will shut their mouths, to you the nations will make their prayer:
Come and deliver us, and delay no longer.
December 20   (O Clavis David)
O Key of David and scepter of the House of Israel;
you open and no one can close; you close and no one can open: 
Come and lead the prisoners from the prison house, those who dwell in darkness and the shadow of death.
December 21   (O Oriens)
O Morning Star,
splendor of light eternal and sun of righteousness: 
Come and enlighten those who dwell in darkness and the shadow of death.
December 22   (O Rex Gentium)
O King of the nations,
the ruler they long for, the cornerstone uniting all people:
Come and save us all, whom You formed out of clay.
December 23   (O Emmanuel)
O Emmanuel,
our king and our Lord, the hope of the nations and their Savior:
Come and save us, O Lord our God.
_______________________________________________________________
Thanksgiving Baskets and Prayer Shawls
A thank you to all the community friends and members of St. Paul's who provided Thanksgiving baskets for Friendship Place. The baskets were wonderfully filled with all the foods that created a holiday meal for families in need at Thanksgiving. Friendship Place expressed their thanks for all of the baskets. 
Thank you to all of the Prayer Shawl members who have worked so faithfully to provide shawls, blankets, lap covers, and hats to our members, family, and friends. The display of these prayers gifts on November 18th stood as a testament to the ministry's commitment to provide love, prayers, and compassion to those in need. May God continue to bless the efforts of your hearts and hands.
Deaconess Cassie     
 
______________________________________________
Help Needed for the Christmas Pageant!
Last year, our Christmas pageant costumes received a nice uplift. But with the pageant quickly approaching, we need some assistance with enhancing our new Christmas pageant costumes. We need both sewers (hand and machine), and some donations.  Please let us know if you are interested in helping - you can contact Christi Barnhart or Amy Moorhus Baumgardner or on her cell phone - 301.602.4729.
_______________________________________________________________
Gifts of Hope 2018 
Gifts of Hope is our Synod's alternative gift giving program which enables people to give gifts that reflect the gift God gave us, God's Son Jesus Christ. Please consider substituting a Gift of Hope for a more traditional gift on your list for friends and family, or supplementing those other gifts with a donation that will lighten the lives of others this Christmas season.
This program gives anyone the opportunity to purchase a practical gift to help our brothers and sisters in the DC area and around the world. Real challenges of homelessness and poverty continue to grow in our community, and there are needs across the globe that call for our attention. With Gifts of Hope, you will have the opportunity to choose from a group of Lutheran social ministry organizations, camps, and our synod's companion synods abroad to directly support their mission and programs.  Many children in the Washington area and throughout the world have benefited from Gifts of Hope by receiving books, camp scholarships, free lunches, and educational trips. Social ministry organizations, Lutheran camps, and Lutheran Churches in El Salvador, Namibia and Slovakia have also benefited from Gifts of Hope.
Beginning on Sunday, December 2, you can make a monetary contribution in honor of those on your gift list. Your contribution goes to the beneficiary organization to purchase the gifts you have selected.  View all the participating organizations on the back of the catalog or on the web.
Gifts of Hope catalogs will be available in our congregation on Sunday, November 25. Watch for the display after each service beginning December 2 and ending December 23 in St. Paul's narthex. You can review the gifts, fill out an order form, and purchase your gifts. You will receive a beautiful card and insert to use as the gift. For more information about Gifts of Hope see the web site, or contact Rebecca Highsmith, or at 202.309.2812.
_________________________________________
St. Paul's 175th  Anniversary Christmas Ornament!
In honor of our 175th anniversary, we ordered a limited run of custom pewter finish ornaments featuring St. Paul'son the front with the dates of our anniversary (1843-2018) and a quote from Martin Luther on the back: "Now the church is not wood and stone, but the company of believing people."
Each ornament is $25, and checks may be made out to St. Paul's.
To purchase an ornament, or if you have any questions about the ornaments, please contact Lisa Wackler at  . They will also be available for purchase on Sunday.
_______________________________________________________________
 DID YOU KNOW ....?
DID YOU KNOW is a weekly feature in observance of St. Paul's 175th Anniversary. 
DID YOU KNOW that St. Paul's choir was featured in the Washington Post Rotogravure Section published on December 25, 1932?
The headline declared "Some Prominent Capital Choirs To Be Heard In Christmas Programs." Along with St. Paul's, choirs showcased included Washington Cathedral Choir, St. Thomas Episcopal Church Choir, and National Baptist Memorial Church Choir, and others.
Joe Tenschert, a well-known DC photographer who specialized in group portraits and panoramic photographs, took the photographs. St. Paul's Choir photograph was taken in the lower worship area before the reredos, ornamental screen covering the wall at the back of an altar, was installed.
Reverend Henry Snyder is standing center, bottom row.  Edith Stowell, Director of Music, is center, top row. She had also served as Director of Music at Epiphany Lutheran prior to the merger with St. Paul's.
Some history and explanation.  Beginning in the early 20th century, rotogravure was the printing process used for high quality pictorial sections of newspapers and magazines so hence the name for that section in the Washington Post in 1932.
As you come across pictures from your own time at St. Paul's, please share them with us , so we can include them on our website, Facebook page, Twitter feed, and in displays around the church.  If your pictures are hard copies, we will scan them and return them to you.
If you have any questions, please don't hesitate to contact Lisa or Joy in the Church Office.
_______________________________________________________________
StLuthRef Youth Group News

Our next StLuthRef meeting is Sunday, December 16th, 1-4 pm, at Luther Place.  Youth grades 7-12 are invited to join in on the fun, and meet other Lutheran Youth from DC! For planning purposes, please let Lisa know if you plan to attend by Thursday, December 13th. 
_______________________________________________________________

Happy 175th Anniversary, St. Paul's!
175th Anniversary of St. Paul's!
Sunday, April 15th, 2018, marked the actual 175th Anniversary of St. Paul's English Lutheran Church. While St. Paul's first service was actually on January 8, 1843, the complete organization of the church was not until April 15th 1843 when the first church council was elected. We had a wonderful celebration to commemorate the special day! 
The day began with a festival worship service at which Bishop Graham brought greetings and presided. A brass quartet joined us and all of the choirs (the Bell Choir, Youth Choir and Adult Choir) contributed lovely music to mark the day. The congregation read Psalm 46 in unison, just as was done at St. Paul's Semi-Centennial in 1893. 
Following worship, St. Paul's hosted a celebratory luncheon and program. Thomas L. Bowen of DC Mayor's Office of Religious Affairs presented a congratulatory letter from Mayor Muriel Bowser to Pastor Omholt and then led us in Grace.  
There was a delicious buffet luncheon and while people were eating there was a video of the construction of the present day church accompanied by music of David Hearn playing the first organ. 
During dessert, we had a good old fashioned hymn sing! 
Following the meal we heard comments from 2 of our Trustees (June Ericsson and David Cox) and then there was a surprise visit from Pastor J.G. Butler who served at ST. Paul's from 1849-1873! He was portrayed by Dwayne Starlin, a professional impersonator and delivered parts of Rev. Butler's famous sermon from the day following President Lincoln's Assassination and answered questions from the audience. 
There was also a display highlighting St. Paul's through its 175 years in the baptistry and a new brief history of St. Paul's was available. This display will be evolving throughout the year. If anyone would like to help out with the display, please contact Joy Belew in the church office. 
_______________________________________________________________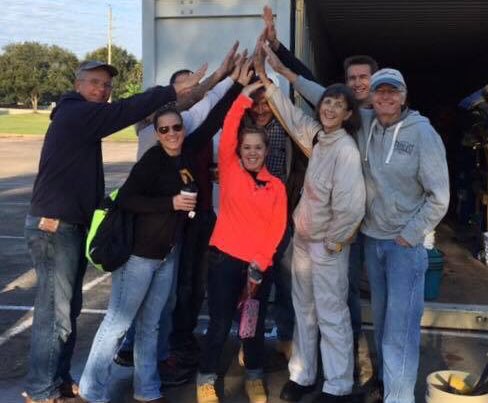 Our Mission Team in Houston, Texas, last November!
---------------------------------------------------
 
------------------------------------------------------------------